Len Perkins Receives Award For Service from Habitat for Humanity of Clinton County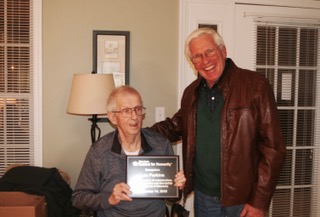 On Thursday, January 2, 2020, members of the Habitat for Humanity Board of Directors presented Len Perkins with a prestigious award for his many years of service to the community. Lenny was surprised to be visited by the members and presented with this unexpected but impressive award for his years of volunteering, support, service and leadership to the Board. 
Lenny has served on the HFH Board for over 9 years, stepping down only for health reasons. Prior to serving as a board member, he was active for many years on the job site, swinging a hammer as a construction volunteer. When he decided that he was no longer able to physically labor on the job site, he continued to stop by and became the delivery guy, picking up needed nails, water, meals and such that could be transported in his car. He lifted the spirits of the other volunteers by his enthusiasm and dedication to this valuable cause, promoting stable housing for families in the Clinton County area. A common heard statement at the job site was directed to Lenny's age of 87 "years young". 
Most notably, Lenny was known for his fundraising abilities. He served on the annual Golf Outing which would bring in enough money to build the walls or pay for the trusses and shingles for at least one home per year. Known for his humor, Lenny commented after receiving the award that the patrons at Frisch's no longer need to dive under their tables when he walks into the restaurant.