34th Habitat family welcomed home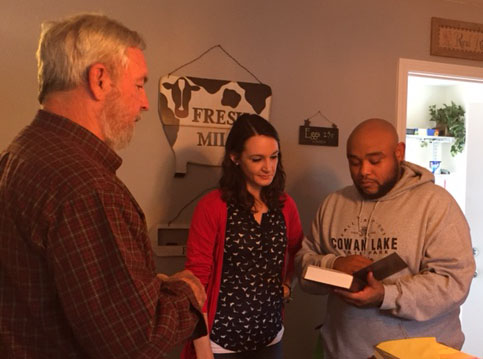 Habitat of Clinton County dedicated its 34th home on Saturday October 22. Donovan Butler and Stephanie Oberlin were grateful for the work and volunteers that made their new home in Wilmington a reality.
A gathering of Butler-Oberlin family and the Habitat group celebrated the work, shared the experience of this journey and wished the couple well.
Two members of the Retired Teachers organization of Clinton County, Bobbi Hagen and Jane Garber presented the family with books. Retired Teachers throughout the state have partnered with Habitat and our local group wanted to start the family with a book collection of some well-loved favorites.
Building manager Dick Neff praised Donovan's work ethic and commitment to the project. Stephanie Butler shared that she was thankful for the volunteers' kindness and building expertise that ensured her new home was sturdy and built with love. Donovan said that he would be able to pass this home to his sons—a wonderful legacy. "This is a blessing for me, this is a blessing for all of us," he said.
The Habitat organization will celebrate all of their 2016 successes in a thanksgiving dinner on Thursday November 3 at 6 p.m. at the Presbyterian Church of Wilmington. Anyone who donated funds, materials or took up a hammer is invited to attend the event.